Hardscape Contractor Chattanooga, TN
At DreamScapes LLC, we create functional and beautiful hardscapes that our valued clients, their family, and guests truly enjoy. We have already completed dozens of hardscaping projects in Chattanooga, East Ridge, Cleveland, Red Bank, Walden, Dunlap, Soddy-Daisy, Collegedale, Kimball, Jasper and other Tennessee locations. Consequently, we have managed to establish our reputation as a reliable, skilled, and results-oriented hardscape contractor.
The Hardscape Specialists in TN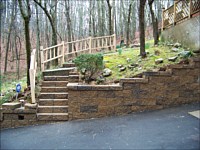 As a licensed hardscape contractor, we employ only experienced hardscaping crews to handle our projects. In addition, our decades of experience in hardscape installation make us one of the most experienced in this discipline. We have worked on numerous residential and commercial hardscaping projects across the state, all with outstanding results. Our past and current clients praise our exceptional mastery of installing hardscapes. They also note our use of premium materials from the most trusted manufacturers, which allows us to build durable, functional, and eye-catching hardscape amenities.
Meanwhile, our skilled installers work closely with each client to ensure that the design specifications are fully met. We have been providing this kind of service for property owners in Chattanooga, TN and nearby areas. You will also be surely pleased to know that we offer our services at rates that you can easily afford. So no worries if you have very limited funding because you can still avail professional services from the state's most trusted hardscape contractor - DreamScapes LLC.
Versatile Hardscape Contractor
You can count on us to build world-class hardscapes that will make your outdoors more appealing and functional. From quaint patios to stunning driveways, we are the only local hardscape contractor that can create these kinds of hardscapes. Other hardscape features that we can design and install for you include:
Retaining walls - Let us help prevent soil erosion in your yard by building sturdy and attractive retaining walls. We will install them in strategic areas, particularly in hilly spots where the soil is loose or unstable. We can also use them to improve the aesthetics of your outdoor space.


Garden steps and walkways - Your landscape can become more inviting with walkways and garden steps made from the finest pavers. Since we have access to top-quality landscaping materials, it's easy for us to customize these features to fit your personality and complement your existing landscape theme.


Pool decks - Let us make your pool area more attractive by creating a paver pool deck. We will use only slip-resistant pavers that will help prevent accidents and guarantee optimum visual impact.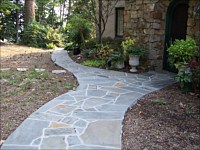 Planters - Our crews can install attractive planters to make your outdoors more inviting. We will make sure that the planters complement the rest of your property for a truly seamless appearance.


Gazebos - Just like patios, gazebos are also outstanding improvements to any property. We have installed many of these hardscapes across Chattanooga and other TN cities that we serve. We can design and build one for your commercial or residential landscape following the theme that you want.


Sitting walls - Your landscape can be the perfect area for long, leisurely walks that are good for your health. And if you ever need to take a quick rest, sitting walls can be the ideal spots. We will install them in strategic areas around your lawn.


Hire a reliable and trustworthy hardscape contractor if you want stunning hardscapes that you can be proud of. Contact us at (423) 886-6565.
We Provide Services to the Following Cities and Towns in TN
Schedule Your Design Consultation at 423-886-6565